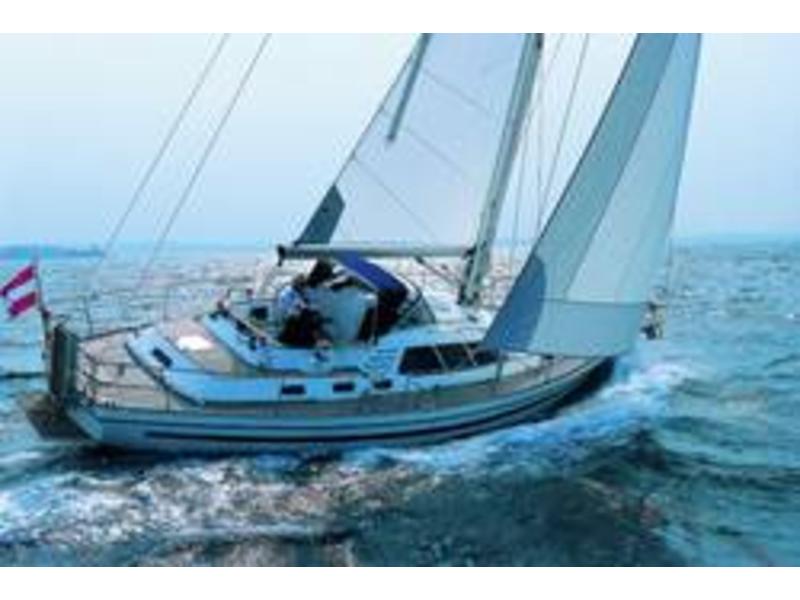 42' Sunbeam Sunbeam 42DS


Year

Length

Beam

Draft

Location

Price

2003

42'

14.4'

6.4'

Outside United States

$299,000
Description:
SUNBEAM 42DSThe DECK LAYOUT

offers the crew comfortable working and relaxing areas. An ergonomic concept with practical control capability direct from the safety of the centre cockpit. The standard equipment delivered with the SUNBEAM 42DS is a fine example of Schoechl Yachtbau's understanding of requirements for active and passive safety on board. With a laid teak deck and solid teak toe rails, genoa sheet tracks leading very far aft with Sunbeam turning blocks for a clear cockpit, side gates in the lifelines, stainless steel pushpit with bathing platform and bathing ladder, recessed jib tracks and deck fittings and lots more that lends to your personal safety. This includes a roll reef genoa and roll reef main sail with a minimum clearance of 2 meters under the boom.

THE CONCEPT
of the SUNBEAM 42DS is based mainly on a formal appearance, proven technics and optimal sailing qualities. In the development, the aim has been to achieve the highest possible cruising comfort, (also for small crews) and the result is shown by the highest level of operating safety with a minimum of required effort.
The strong points of the SUNBEAM 42DS are the innovative technology, the extravagant building technique, the hand laid laminate carried out under the supervision of "Germanic Lloyds" and the complexity of the standard equipment.


THE INTERIOR OF THE SUNBEAM 42DS.

The generous availability of living space below deck meets all the expectations of a demanding skipper.

DIE EXKLUSIVITÄT
of the interior is notable by the prestigous finish in Sapelli-Mahagoni and perfected by the elegant design. Safety orientiert rounded solid timber framework, ceiling covering which is washable and non absorbant, and weather resistant teak flooring, functionally complete the elegant ambiance. The basis for a good interior-climate is set by a combined thwartships and hatch-ventilation system for each living area. A large cool box is integrated into the galley as is a wash basin and a stove.
Equipment:
Hull, Keel Construction
A long-lasting, high-quality surface is guaranteed by a handpainted gelcoat
Osmosis prevented Antifouling.
EC Category, world wide (till 8 Beaufort and waves 4)
Guarantee for the first time buyer against Osmose for 7 years
Guarantee against leackage for the Hull / Keel connection for 10 years in rule of EC diective 94/25, inappropriate use, for first time buyer
Guarantee against leckage between hull and deck for 10 Years in rule of EC diective 94/25, inappropriate use, for first time buyer
Mast, Rigging, Sails, Tarpaulins
Topping lift
Front lower shrouds
Stern lower shrouds
Maximum comfort and safety with a rolled mainsail, in Dacron, short verticle slats, reff ropes operated from cockpit.
One-rope reefing system,- easier sailing for a one-man crew. Reff rope operated from cockpit
Rollreffing system for Genoa.
Modern double spreader rigging.
A strong boom kicker is mounted for optimal trim in light winds and increased safety
A selftailing halyard winch is fitted to mast to enable easier usage.
Masthead fly
Fittings on Deck
Saftey central cockpit, wheel steering, compass and engine control on pedestal, 2 storage shelfs
Anchor 27kg.
Anchor chain 10mm, galvanized, 70m.
Bow fittings with double anchor lines.
Bow protected with high-grade steel.
Electric anchor winch 1200 W operated by hand.
Emergency tiller, operated on deck, is simple and easy to reach, to put into operation and to mount
Double guardrail.
Generous bow and stern clamps
Generous spring clamps.
4 hatches, 10 windows, big deck-saloon-windows on coachroof for ample light and brightness
Generous stern lockers.
High-grade telescopic steel springs on locker tops.
Granny bars on deck
Cockpit sill in solid teak
Deck in solid teak, no screws, constructed in vacuum process with adhesives.
Cabin roof in solid teak.
Floor and seats in cockpit in solid teak, constructed by vacuum process.
Electric Halyard winch starboard.
Self tailing Main-sheet winches, 2 gear.
Self-tailing Genoa winches, 2 gear.
Sliding drop board at companion-way inclusiv window.
Hauling point, adaptable from cockpit.
Instrument bracket over sliding hatch.
Steering wheel with safety bar and ring for lifebelt attachment.
Gooseneck for laying cables below deck.
Guard rail gate port and starboard.
Solid guard rail in high-grade steel, diameter 25mm.
Safety rings for lifelines on deck, port and starboard
Main sheet traveller system can be operated from helmsman's seat
Interior fittings, accessories
A high quality marine plywood for the floor supports compfort and a warm atmospheric
Bilge pump 38mm (manual).
Bilge pump, electrical self-acting, for residual bilgewater
Acoustical alarm for bilge pump in panel.
Choice of materials for the saloon, from our standard collection, gives the fittings a personal note.
Curtains, on the side, nested
Bliseblinds under the skylights
Wet cell aftships has manual toilet with septic tank
Manual toilet in the forward head
Wet cell aftships has shelves in artificial stone look, washbasin in high grade steel
Wet cell has shelves and washbasin in an easy-care white laminate
Wet cell with cupbord and mirror, seacocks are easy accessible.
Separate shower-room in the aftship with ashower curtain.
Separate shower-room in the aftship with ashower curtain.
Gas stove with oven with two burners, gimbal mounted
Top safety in gas system provided by remote gas regulator wit
| | | |
| --- | --- | --- |
| Location: Split Horvatia, Outside United States | L33177 | |
Material

Hull

Type

Rigging

Cabins

Condition

fiberglass

monohull

cruiser

cutter

2

excellent