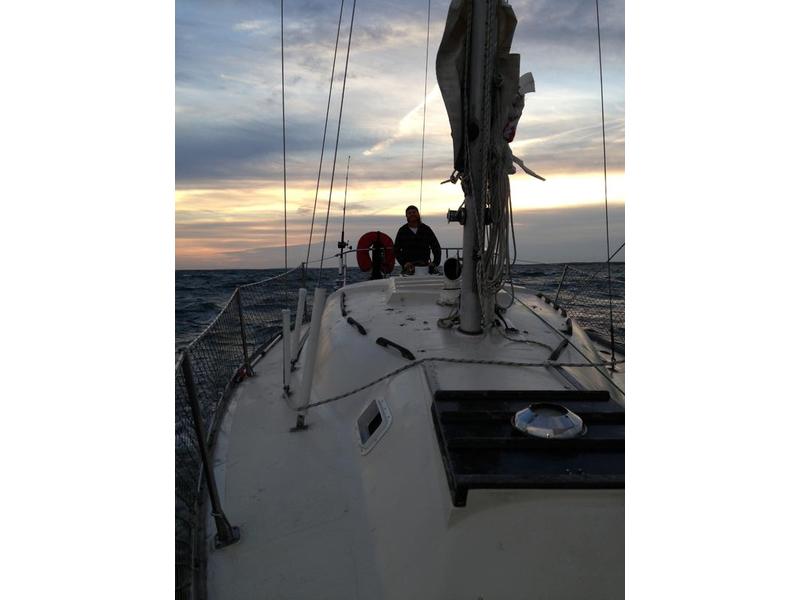 30' Irwin 30


Year

Length

Beam

Draft

Location

Price

1976

30'

10.4'

4'

Massachusetts

$4,000
Description:
This boat was purchased in April of 2013 and worked on for 3 months before she went onto the water for the summer. We removed all of the laminated partical board and replaced it with marine grade mahogany plywood throughout. The universal atomic four has been completely gone through and updated starting with the following:
Sea water cooling system- replaced impeller and brass flange in the water pump, removed the water jacket on the engine block and cleaned out the cavity replaced the gasket and replaced the lines with fresh rubber fuel lines.
Fuel system- new fuel water separator, cleaned the fuel pump, cleaned the carburetor, inserted an inline fuel filter just before the carburetor and replaced gaskets on the carburetor and fuel pump
Electrical- replaced spark plugs, wires, points, and coil was relocated to the bulkhead to keep it cool. A brand new alternator was installed in November and is hooked up to the engine switch to prevent the two starter batteries hooked up in parallel from draining back into the alternator when the engine is not running.
Changed the oil
Has a working head with a y valve for a holding tank but the tank was removed at the end of the season due to being replaced. I never got to it.
Fresh paint in all cubbies and on inside partitioning bulkheads to head and v berth.
The bilge was completely re finished because the fiberglass was de laminating and it needed to be done before the boat went into the water. Fresh self leveling cement was poured over the existing dry ballist and then 2 part west systems epoxy was generously applied over the top and up the hull walls to create a watertight bilge.

Cleaned the 40 gallon water tank, plumbing and electric water pump to supply water to the galley sink and the ondeck shower spout.

Sails need to be worked on but are fully functional. Roller furling job and mainsail included.
Equipment:
Working compas, VHF radio, led lighting, nav lights. I used nav x on the iPhone for a chart plotter with xsGPS connection via Bluetooth which worked great for all of my sailing needs.

Four working winches ondeck and one spare below.
| | | |
| --- | --- | --- |
| Location: Pocasset, Massachusetts | L40106 | |
Material

Hull

Type

Rigging

Cabins

Condition

fiberglass

monohull

cruiser

masthead sloop

fair