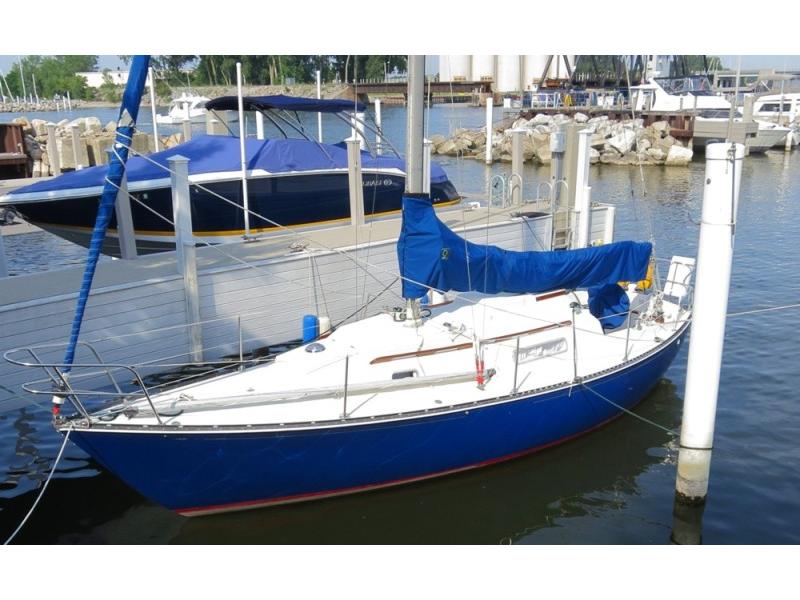 30'

C&C 30
Year

Length

Beam

Draft

Location

Price

1973

30'

10'

5'

Michigan

$21,900
Description:

1973 C&C 30 that has been meticulously maintained and cared for. Topsides and mast professionally repainted January 2016. This is a great example of C&C's famous quality in one of their most popular designs. One of the stiffest models ever produced by C&C, she thrives in heavy air. She is an accomplished racer with crisp handling, exceptional ability to point to windward and dynamic downwind stability. A federally documented vessel that has always been berthed in fresh water, Demeter has been well loved. Equally adept at cruising, she is fully outfitted and has been well cared for and updated. Professionally Awlgripped in 1996.

Solid figerglass hull with absolutely no deterioration or delamination since it was produced prior to 1980.

Detail Sheet with pictures available by emailing owner.
Equipment:

Topsides and mast professionally repainted in January 2016. Sails and Rigging Sloop rig; aluminum keel-stepped mast with mainsail luff traveler track attached; steaming light; masthead windvane; aluminum boom with new 6:1 internal outhaul and internal topping lift; (4) halyards - internal main, genoa and spinnaker pole topping lift - external spinnaker halyard with rotating masthead sheave; tapered airfoil section aluminum spreaders; flag halyards at spreaders. Sail area 459 sq ft (100% fore triangle).
•All new stainless steel standing rigging (1998)
•UK full battened main with two reefing points (1998)
•Mainsail luff batten cars and traveler track system (1998)
•Dutchman mainsail flaking system (1998)
•North 160% Dacron genoa
•North 135% Dacron genoa
•0.5 ounce spinnaker
•0.75 ounce tri-radial spinnaker with ATN spinnaker sleeve (1999)
•Color coded spinnaker sheets (1999)
•Spartite mast wedge system and SSI mast boot
•Harken single line reefing system
•New chainplate covers (2002)
•Shroud turnbuckle covers (2002)
•Spinnaker pole and pole car traveler on mast
•New main halyard and jib sheets
New main halyard and jib sheets

Electrical and Mechanical
AC and DC electrical wiring circuits; dual deep cycle 12V battery banks powered by alternator and battery charger; 110V shore power hookup.
Universal Atomic 4 - 30 hp gas engine; Racor fuel filter/water separator, electronic ignition and electric fuel pump both new (1997); exhaust pipe from manifold to muffler replaced (1997); new ignition switch (2000).
•TrueCharge 10 multi-stage battery charger (2001)
•AC wiring replaced (1996)
•120V main breaker and 12V panel
•AC outlets in galley (GFI) and head
•New 50 ft shore power cord (2002)
•Heavy duty battery switch
•Aqualift marine muffler
•Qwik Drain electric oil change pump
•New flexible stainless mesh fuel lines (1999)
•stainless propeller shaft
•CDI Perfect Pitch propeller (2002)
•Spare 11x7" bronze 2-blade propeller
•Manual overboard pump for icebox drain
•Raritan PHII head and hoses (1997)

Additional

•Steel cradle
•2 winch handles; handle pockets in cockpit and at mast base
•Fire extinguishers (3)
•USCG approved Type II lifevests (6)
•Type IV throwable horseshoe buoy and mounting bracket
•Dockside cable TV hookup
•Fenders, misc docklines and sheets
•Radar reflector
•Ships bell
| | | |
| --- | --- | --- |
| Location: Saint Joseph, Michigan | L43612 | |
Material

Hull

Type

Rigging

Cabins

Condition

fiberglass

monohull

racer/cruiser

masthead sloop

excellent