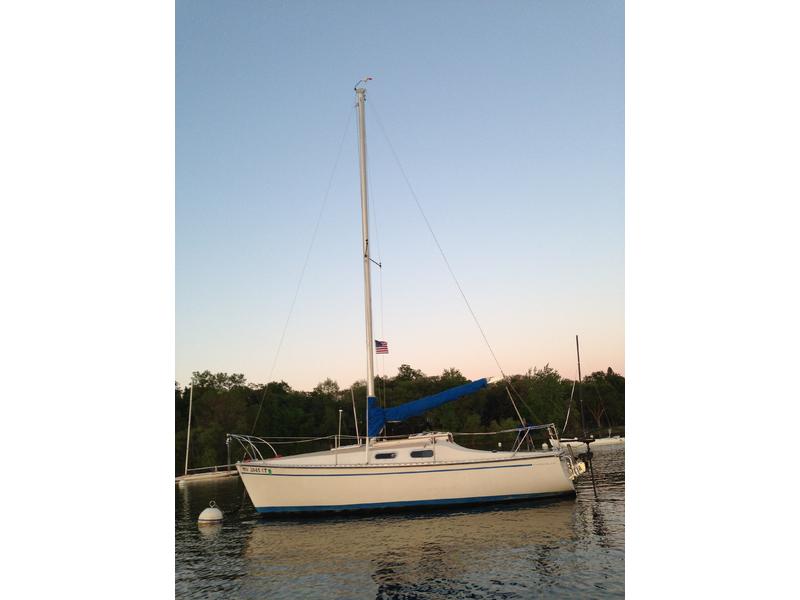 22' Chrysler C-22 Sandpiper


Year

Length

Beam

Draft

Location

Price

1979

22'

8'

2-5''

Wisconsin

$6,000
Description:
1979 Chrysler 22' Sloop
Chrysler Marine built this Halsey Herreshoff designed swing keel / swing rudder masthead sloop from 1975 to 1978 specifically as a family day sailor, overnighter, racer, easily handled and sailed by a single person or full crew. As one of the finest trailerable cruisers, she has a strong following with an on-line support group… for good reason. She's easily trailered and is one of the most stable sailing 22 footers built. With an easily managed swing keel at its minimum, draft is 1' 11", at its maximum 4'6" and weighs-in at a substantial 825 lbs. I've found the generous ballast makes the Sandpiper safer and far more capable in heavy air than other boats in her class.

With a roller furler jib and single reef main sail, sailors at every level of experience have options for handling many different sailing conditions. I have a good deal of documentation for the Sandpiper as well as there being a vast amount of information available at http://chryslersailors.com and youtube.

The mast is easily stepped with one person, using the gin-pole setup, which helps keep maintenance costs affordable.

The boat comes with a trailer. Bearing buddies work well, the lights work and I replaced both tires this summer.

The boat is currently in Wisconsin.
Equipment:
The boat features all original equipment. I purchased this boat 2 years ago and am the third owner. I have put substantial time into updating/renovating the interior/exterior. A summary of work performed:

• New main sail and roller furler genoa. Had both sails made to the specifications of the original sails. Including Chrysler "C" logo. New sails arrived on 8/9/14
• Altered the interior of the cabin: custom made wood bulkheads to devise space, custom made wood table to replace original (still fits in drop-down area to accommodate extra sleeping area).
• Installed WARN winch to assist with raising/lowering swing keel
• Installed new stereo/speakers
• Replaced interior lights
• Re-upholstered interior cushions
• Created a removable table for cockpit area for dinner/card games/etc.
• Stripped and re-caulked deck/gunnel connection to prevent against water intrusion

Additional information:
• Original longshaft outboard has a crack in the lower housing, expert aluminum welder may be able to fix, other than that, motor runs fine
• Have a 55lb thrust minnekota, works fine for getting around inland lakes

Feel free to call with any additional questions.

Thanks,
Justin
847-922-1358
| | | |
| --- | --- | --- |
| Location: Wild Rose, Wisconsin | L45306 | |
Material

Hull

Type

Rigging

Cabins

Condition

fiberglass

monohull

daysailer

masthead sloop

good