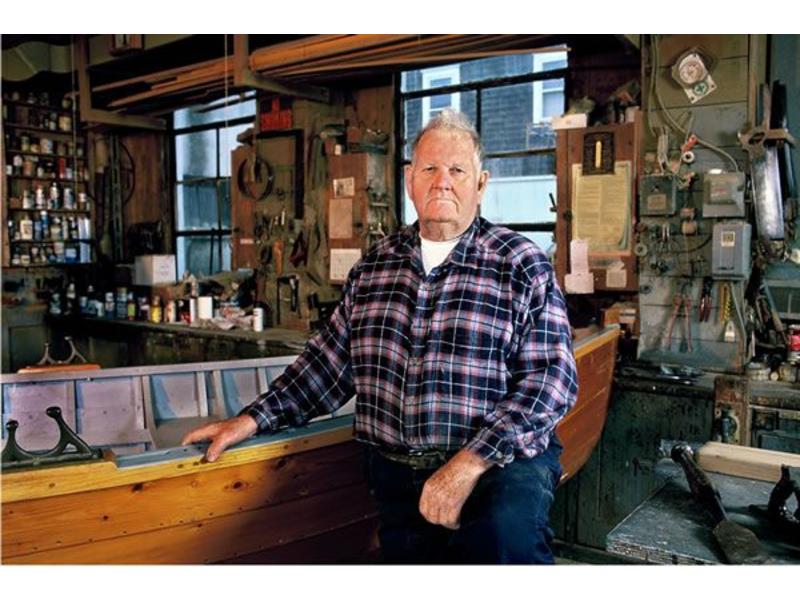 19' Charles Hankins and Sons Sailing Sea Bright Beach Skiff


Year

Length

Beam

Draft

Location

Price

1970

19'

4'10'

8'

Maryland

$9,950
Description:
1970 Charles E. Hankins 19' Sailing Sea Bright Skiff
Ahoy... you are viewing an authentic 19' Sailing Sea Bright Beach Skiff, which is a lengthened version of Hankins traditional 16' skiff and is understood to be the last in existence that is privately owned and/or known to privately exist solely.

Built in the winter of 1970 by Jersey legend Charles E. Hankins at his family's Lavallette, New Jersey boat building firm, Charles Hankins and Sons. His father, Charles M. Hankins, established the boat building business in 1912. All together, the Hankins family boat building business produced award winning Jersey Sea Skiffs and other small crafts for almost a century.
Equipment:
Building Specifics:
L.O.A. - 19' (Not including rudder.)
The Stem and Stern post are each of one piece Natural Crook White Oak.
The Breast Hook, Transom Knees, Thwart Braces and Crooks are made from tough, durable Hackmatack, also called tamarack or American larch.

The Rub rails, Cap, Sheer Clamp are Single Length White Oak.
All Planks are 5/8" White Cedar.
Ribs are ¾" x 1-1/4" on 8" Centers of 2 Planks 23" at its maximum width and is made up with ½" x 1/8" Spline.
The Transom is from the same Stock and the Joints are Splined.

Knowing that Cedar is tender on grounding, a Full Length Shoe 1" x 6" Oak tapering on Both Ends is fared to the Forefoot and Stern Post and Copper Riveted to the Hull.
Being 6" in the way of the Centerboard Slot, each side offers a good bed for the Heads of the Bronze Carriage Bolts, which are run up and secure Trunk Logs.
Water Line Length is 16' 7" / Beam at Sheer is 6" / Beam at Water Line is 4' 10".
Freeboard Forward is 30", least 19" / Stern is 22"
Draft of Hull forward is 3", maximum of center of lateral resistance 10", ft at Stern Post is 8", Deck Sheer is 7" and Bottom Rocker is 3".
Rake of Transom is 30 Degrees.
Centerboard Construction: Lumber was selected for proper grain to minimize warping of 1-1/8" X 5" White Oak Planks Doweled with 3/8" Bronze Rods.

The Rudder Hangs by 3 Sets of Bronze Gudgeons, which receive a 5/8" Bronze Rod that serves as a Common Pin. This allows the Rudder, which has 4" more draft than the Hull to slide up the Pin when Grounding/Beaching.
Sail Area: 141 Square Feet, Jib is 30 Square Feet, Main is 111 Square Feet.
All Spars are Sitka Spruce; Mast is 15'-6" in Length x 3-1/2" at its maximum in Diameter and Tapering to 2-1/4" at the Head.
Sprit is 16'- 6" x 2-1/8" at its maximum Diameter tapering to 1-¼" at each end.

Trailer: (Show/Competition Quality) 1974 Holsclaw Double Axle renovated trailer. New axle hubs, back plates, master/wheel brake cylinder(s), new wheel bearings, with high pressure wheel bearing grease, new rear tail-lights, 5 new tires and 5 new O.E.M. Holsclaw half-moon chrome hub caps.

Mooring Cover: High-quality "Marine Blue" heavy duty custom mooring cover, with Velcro ring-slit for leaving mast up. New in 2013 and used only 3 months ever...

All copies of original build documents, Bill of Sales and written correspondence between original owner, legendary designer John Gardner and boatbuilder Charles E. Hankins are in good legible state.

The original trace paper-full rudder pattern and copies of early photos of the skiff being built, plus the day of completion are complete.
Detailed build drawings and a fresh scanned color copy of National Fisherman's, October 1973 - 2 page write-up by Technical Editor-John Gardner are also included.
| | | |
| --- | --- | --- |
| Location: Easton, Maryland | L58309 | |
Material

Hull

Type

Rigging

Cabins

Condition

wood

monohull

daysailer

other

excellent