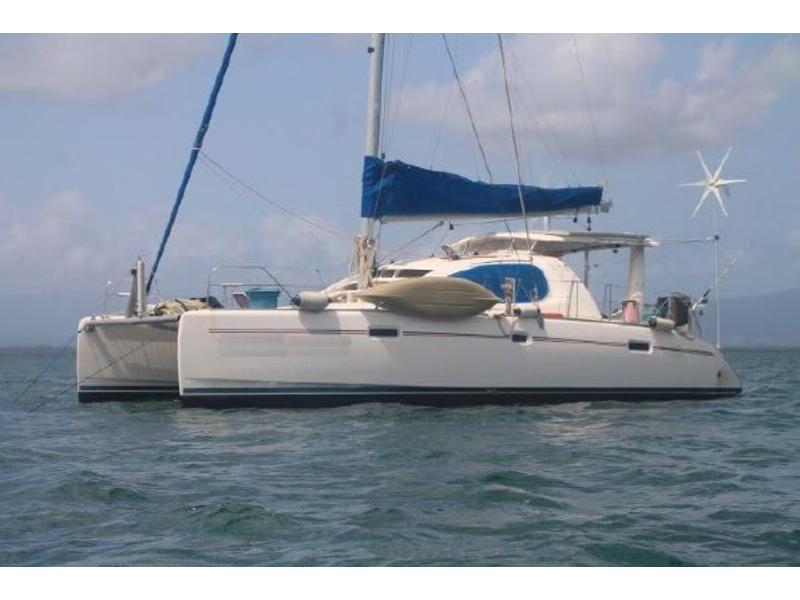 40'

Robertson and Caine Leopard 40
Year

Length

Beam

Draft

Location

Price

2005

40'

20'

4'3'

Outside United States

$225,000
Description:

Robertson & Caine - Leopard 40 - 4 cabins - Year 2005

Leopard 40 in good shape with lots of new equipments.

Full equipment : Generator, Solar Panels, Inverter, BBQ, TV, Engines refit.

Contact us for more details
Equipment:

Tanks
Fresh Water Tanks: (206 Gallons)
Fuel Tanks: (92 Gallons)
Holding Tanks: (26 Gallons)

Accommodations
Number of double berths: 4
Number of cabins: 4
Number of heads: 2
Seating Capacity: 8

Electronics
Cockpit speakers
Wind speed and direction
Autopilot
Compass
VHF
Depthsounder
CD player
GPS
Radio
Log-speedometer

Sails
Furling genoa
Fully battened mainsail

Rigging
Steering wheel

Inside Equipment
Refrigerator
Battery charger
Sea water pump
Electric bilge pump
Deep freezer
Oven
Hot water
Electric head

Electrical Equipment
Inverter
Shore power inlet
Generator
Electrical Circuit: 220V

Outside Equipment/Extras
Cockpit table
Tender
Solar panel
Swimming ladder
Wind generator
Cockpit shower
Davits
Cockpit cushions
Electric windlass

Covers
Lazyjacks
Bimini Top
Lazy bag

STANDARD EQUIPMENTS
Equipments added

Extérieur/Outdoor :

- 12v plug in arch/ prise 12V sur arche derrière table de cockpit.

- USB plug at helm/ prise double USB au poste de pilotage

- Tablet support at helm/ Support pour tablette au poste de pilotage.

- Swith panel with available additionnal switches/Panneau d'interrupteurs avec interrupteur disponible pour ajout éventuel d'équipement.

- DEL light in the back/ Phare LED pour éclairer la passerelle arrière.

- Multicolour LED light string to the ceiling with remote control/Guirlande lumineuse multicolore à del avec télécommande (cockpit)

- Mostiquo net around the table/ Moustiquaire de table

- Salt Water (2015) plugs/ Prises pour tuyau eau de mer avec raccord rapide dans cockpit et dans le puits d'ancre.

- BBQ Dickinson Sea B Que (2014)

- VHF Extand (2015) to helm/ Extension de la VHF au poste de barre

- "Kiwiprop" 3 folding blades propellers(2014)/ 2 x hélices avec 3 pales mise en drapeau automatique Kiwiprop

- Sun shade all around (2014)/ Pare-soleil de tous les côtés du cockpit

- 3 x 230 w (690 W) solar panels with MPPT (2014); control panel in the cockpit (June 2014)/ panneaux solaires avec régulateur MPPT ;écran de contrôle dans le cockpit

- 2 x wind turbines with MPPT controller (control panel) and PWT regulator/ éoliennes 400 W et 800 W avec régulateur MPPT (écran de contrôle) et régulateur PWT (2014)

- Portable Generator honda 2000 I ( 06/2016)/ Groupe électrogène portatif 2000 W Honda 2ie connecté à toutes les prises 110 V

- 2 folding supports for wake-kiteboards or kayak/2 supports repliables pour planches ou kayak

- 2 fish rod holder/ 2 porte-cannes à pêche.

- Rainwater recovery system integrated / Système de récupération d'eau de pluie intégré

Indoor/ Intérieur:

Nacelle

- 2000w inverter connected to 110v plugs, with switch controller on central control panel / onduleur 2000 W connecté aux prises 110V,avec interrupteur sur panneau central.

- DEL reading light at the table/ Liseuse LED au niveau de la table de salon

- Led TV with USB plug/ TV LED 22" en 12 V avec prise USB

- 3 additionnal plugs 110 V directely from invertor or generator/3 blocs de prises 110 V reliées directement à l'onduleur ou à la génératrice

- 4 additional 12 V plugs connected to a breaker/ 4 prises 12 V additionnelles reliées à un disjoncteur spécifique

- Mosquito net on the bay window/ Moustiquaire pour la baie vitrée

- Mosquito net for central hatch( vertical)/moustiquaire pour hublot central vertical

- alarm with movement detector/ alarme avec détecteur de mouvement.
| | | |
| --- | --- | --- |
| Location: Caribbean Saint Martin, Outside United States | L59502 | |
Material

Hull

Type

Rigging

Cabins

Condition

fiberglass

catamaran

cruiser

cat boat

4

good