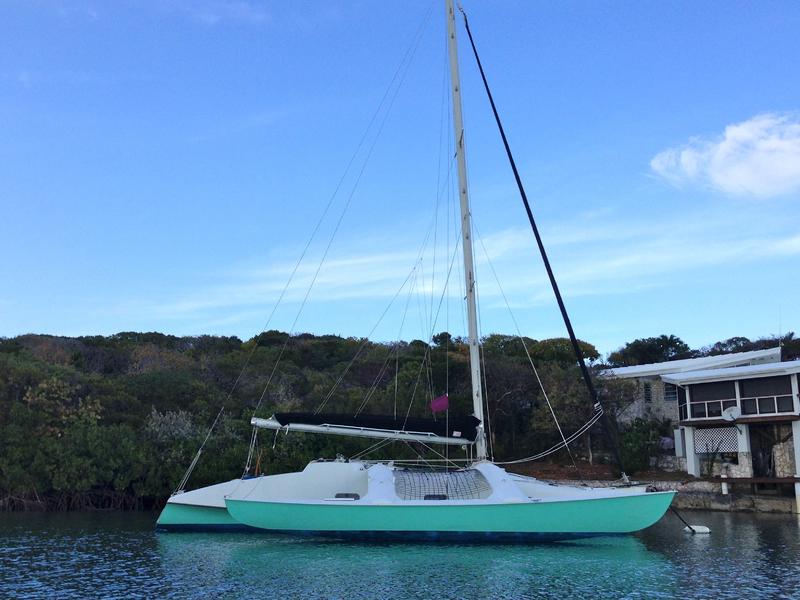 37' NEWICK Trice III Ostar Race / Cruiser


Year

Length

Beam

Draft

Location

Price

1982

37'

25' 4'

2.5'

North Carolina

$63,000
Description:
NEWICK 37 TRIMARAN TRICE III - Just back in North Carolina and up from Exuma Bahamas. For all you multi-hullers that are familiar with NEWICKS. This boat is a collectors item like fine art work and built entirely out out vinylester resin fiberglass ! Thats right a very rare bird Newick thats built out of fiberglass!!! And she was engineered, designed and built right on the heals of the famous Moxie"s 1980 Ostar win. This Trice III is a vintage 1982, Design #57 (I have the plans) for she too was also built to sail in the Ostar and/or go around the world! As far as I know this is the only Trice III built ! I am a boatbuilder and I have also owned 4 trimarans and thus far this Newick is the ultimate for she is not too big to single hand and not too small for very fast and simple comfort cruising. She's a balanced boat and Very VERY Well Built and Rigged like a tank but also very light and ohhh can she can Fly! This boat has a retractable centerboard (not a daggerboard taking up room) in the center of the main hull thus providing an amazing cabin space with 6'5" headroom and a near queen size plateform bed over top the centerboard, all the while with just 30" inch draft with centerboard up and 5'6" draft with centerboard down. She also has the classic Newick kick up rudder design. There is the typical common sense practical design through out this awsome boat in true NEWICK fashion. Mast is 46' feet off the water so fine with the ICW. She's not a VAL, not a NATIVE, not an ECHO, and not a CREATIVE or TRAVELLER design. A go fast multihuller friend on mine said "she reminds him of a large TREMOLINO on steroids." Nevertheless she's a one of a kind "TRICE III" and I believe she is NEWICK'S ultimate "rare bird."
People freak out when they see this awesome machine. dingy, paddle board, windsurfer and kayak all store on the cross members. And then shes loaded like a plane / bird thats up for an air strike Adventure.
Hauling her out now for new bottom paint.
| | |
| --- | --- |
| Equipment: | Calvert Sails (roller furling jib), sink salt and fresh water, propane gas stove, lots of storage dingy, new 10Hp Mercury. 2 anchors. Garman navigation, all running and navigation and interior lights work with 2 solar panels and 2 new marine heavy duty batteries. This boat subsribes to the K.I.S.S. method " Keep It Simple Stupid!" |
| | | |
| --- | --- | --- |
| Location: Nags Head, North Carolina | L60541 | |
Material

Hull

Type

Rigging

Cabins

Condition

fiberglass

trimaran

racer/cruiser

other

1

good