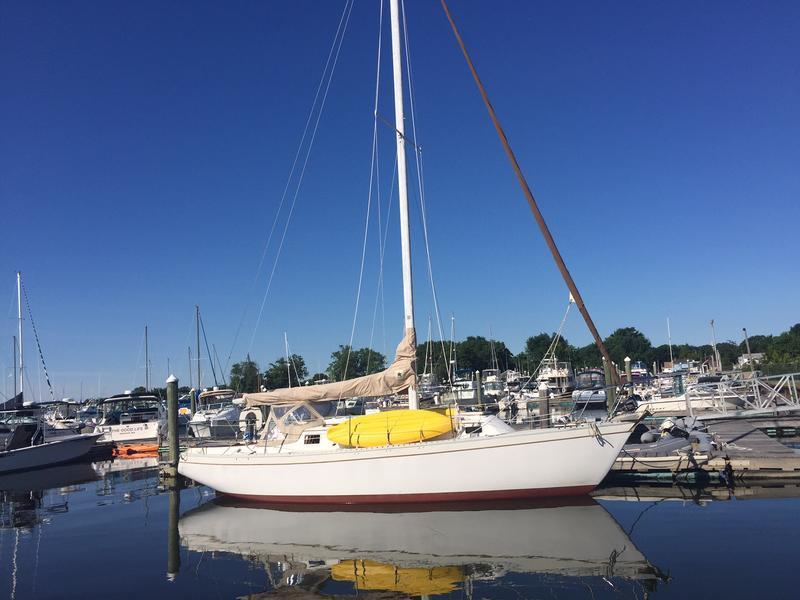 32' Endevour E32 Sloop


Year

Length

Beam

Draft

Location

Price

1979

32'

10'

4.2'

Rhode Island

$10,000
Description:
THE ROLLS ROYCE OF EASILY HANDLED OCEAN CRUISERS!!! Ask any sailor with many years of ocean experience what is the best and toughest Blue Water Ocean Cruiser for a couple or for single handing to cruise to the far islands and the top names you will hear are Oyster, Tayana, Westsail, Saber, Cabo Rico, Island Packet and Endeavor. Any of these brands are going to cost three or four times the price of similar size boat in a coastal cruiser brand because they are built 3 or 4 times as well and their sailing performance is legendary even with a hull and keel that is built for extreme abuse. That extra money you spend is what will save your life if you ever get into real trouble with your yacht in a distant ocean or harbor.

INCREDIBLE OPPORTUNITY TO BUY A HIGHLY SOUGHT AFTER YACHT AT A SMALL FRACTION OF IT'S VALUE DUE TO NEED TO MOVE IT QUICKLY. ENDEAVOR'S 32s ARE A RARE AND SOUGHT AFTER GLOBAL OCEAN CRUISER.
The perfect Global Cruiser for a couple or small family because it is small enough to single-hand easily so that the other person can get sleep while the first person is sailing, but also large enough to carry all the supplies you need for international voyages with room on deck and room below to actually be comfortable for months at a time on the ocean. Get into a bigger boat and you will need more crew to handle it. Get into a smaller boat and its just too small to be comfortable and to handle the big ocean waves.
Huge Interior. Fully Restored Sister-ships sell for $35k to $65,000. As spacious inside as many 38 foot boats. Tons of Stowage. I have a 41' boat and this boat has more storage space! 6.3 Headroom. Check out sister-ships for sale on other websites online. A very well regarded and sought after open ocean cruiser with the perfect keel and hull style for island hopping in shallow waters in the South Pacific or Mediterranean or Caribbean where you may be hundreds of miles from nearest assistance and want a durable vessel that can survive storms and groundings. The perfect size and type for a couple or small family.
Owners love these boats!
Equipment:
Engine: Yanmar 2qm 20 runs great, all filters and oil recently changed. Just did a trip from Beverly MA and she ran perfect, very reliable and durable engine, easy to find parts as well.
Huge fresh water tank: 65 gallons
Sails: are in great condition. Huge Genoa and smaller jib included. A few clips need to be replaced but works as is.
Rigging: in good shape
Jib halyard and main halyard new, jib sheet in great condition.
She sails like a dream! Slices through chop, is fast for a 32' boat and heels nicely,
Bottom paint just painted, good for at least another year maybe two, zincs replaced a couple of spots chipping
Huge Interior. Fully Restored Sister-ships sell for $35k to $65,000. As spacious inside as many 38 foot boats. Tons of Stowage. I have a 41' boat and this boat has more storage space! 6.3 Headroom. Check out sister-ships for sale on other websites online. A very well regarded and sought after open ocean cruiser with the perfect keel and hull style for island hopping in shallow waters in the South Pacific or Mediterranean or Caribbean where you may be hundreds of miles from nearest assistance and want a durable vessel that can survive storms and groundings. A Serious Yacht for serious sailors. The perfect size and type for a couple or small family to cruise the world or for a family up to 5 to do coastal cruising. Sleeps 6. Nearly new Sea-Ward Hille Range gimballed galley stove.
Very nice Cockpit cushions.
Swim ladder and boat pole and winch handle, ok but not great.

Two new interstate marine batteries. Nice Refrigerator ice box. Head has good standing head room and shower.
Fire Extinguisher

The bad and ugly: The windows have had the gaskets replaced and all the rotten wood has been torn out. The boat is ready to sail and even live on, but the wood around the windows was rotten. It needs either new veneer wood or foam backed vinyl cut out to be up for a "complete" finish. All the teak has been oiled recently and looks beautiful!
This is a 95% updated boat, for a little work you can get an amazing boat for a fraction of the price! Sweat equity or have the boatyard do it for you... I can give you the name of a place in Newport that has the foam backed vinyl in stock will cost appr. $200 for material. In a DIY boatyard with great owners that you can do the work on the hard or pay the onsite businesses. Very reasonable prices. Viewing is available to see the hull running gear, prop etc.

Priced to sell fast! she is ready to get back on the water! $10,000 Cash price or 11,500 with partial owner financing. Open to trades of value.
Possibility for delivery to Maryland, Mass, Rhode Island, etc. for a fee. The boat is registered and titled in Florida with "FL" numbers. I still have the USCG registration if you want to change it over. The boat will be sold with a signed title that is free & clear from the State of Florida & a bill of Sale. I will also include the USCG registration. Thank you and feel free to call with any questions.
www.sailboatlistings.com/view/59893
| | | |
| --- | --- | --- |
| Location: Warwick, Rhode Island | L62784 | |
Material

Hull

Type

Rigging

Cabins

Condition

fiberglass

monohull

cruiser

masthead sloop

1

good