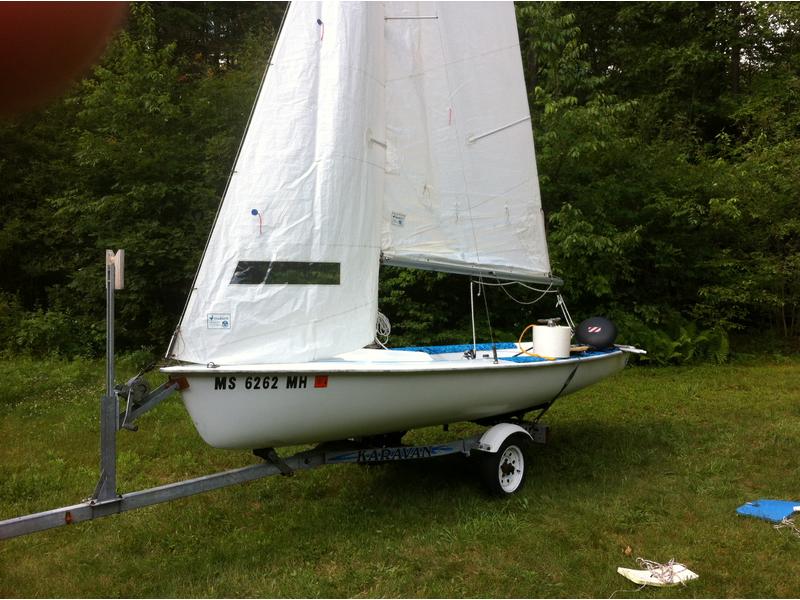 15' HunterJohnston designed JY15


Year

Length

Beam

Draft

Location

Price

1997

15'

5'

3'

Massachusetts

$2,500
Description:
Thank you for looking at my JY15 sailboat in great condition and with upgrades and options. A recent health event is forcing sale or I would be out on the lake! I've owned this fine boat for 5 years and have logged many miles and adventures. I hope the next captain has as much fun as I have.

This is a two person race boat and we have raced it on lake Monomonac in NH for a few years. We have also sailed this boat in NC, Virginia, Boston Harbor, Wellfleet, Great Pond in Eastham, Little pleasant bay and pleasant bay Cape Cod.

The boat is in ready to sail condition. In fact I sailed it on little pleasant bay on Cape Code a few weeks ago. The standing rigging is in great condition and the running rigging gets rinsed and stowed every use. The sheets feel nice on the hands and the halyards are in good shape. The sails are in great shape too. no rips or stains, tell tails all there, hardware nice and solid. sail bag included.

The trailer is a nice solid karavan with bigger tires and a new spare.
Equipment:
Extras that have been added:
Slab reefing in main sail (2' reduction if you need it--I did when solo on windy days for I weigh only 150)
Bow bail for Bow line
Hinged mast for easy-and safe!-stepping of mast while on trailer
Mast float
Topping lift block (to hold boom up while rigging or stowing)
Sea Deck foam adhesive pads for seating area.
light weight dry cell battery pack to power knot meter and trolling motor
special dry cell charger for the pack
Knot meter (total log reads 215mi!--I did sail this boat!)
hinged trolling motor with new brushes and bearings this year
custom mount high pitch prop for motor
Variable speed controller for motor with reversing switch
anchor with chain and rope rode in bucket that fits in front

I have some nice videos and picks of the boat. Email me and I'll send a link to a google folder.
| | | |
| --- | --- | --- |
| Location: Petersham, Massachusetts | L67367 | |
Material

Hull

Type

Rigging

Cabins

Condition

other

monohull

dinghy

fractional sloop

excellent