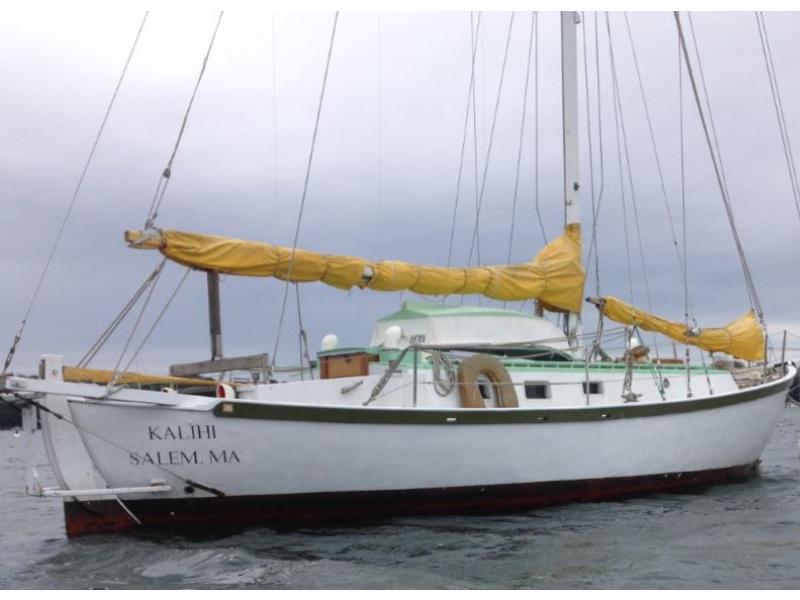 32' Custom Samson Marine C-Mist 32


Year

Length

Beam

Draft

Location

Price

1977

32'

11'

5'

Massachusetts

$10,000
Description:
Kalihi is a ferro-cement adaptation of William Atkins Eric design: atkinboatplans.com/Sail/Eric.html. She was built to be seaworthy and simple for a couple to sail, and to be comfortable and affordable both as a cruiser and as a home.

The full-battened main with dutchman furling system handles and reefs easily. The genoa is cut high in the foot to provide good visibility. The yankee jib drives to weather on blustery days, yet is easy for one person to strike. The heavy, club-footed forestaysail is dependable when set with a reefed main in a blow, and is self-tending sailing to weather.

Her ferro-cement hull and decks and her fiber-glassed, marine plywood, cabin and cockpit require little maintenance other than an occasional fresh coat of marine paint.

Her accommodations are simple. Aft below the companionway, theres a large chart table to port with icebox below. The galley is to starboard with plenty of storage for pots, pans, and provisions. Her main saloon includes port and starboard settees with end tables, a pilot berth outboard to port, cupboards outboard to starboard, and a Petit Godin coal stove. The head is forward to port with a hanging locker to starboard. The forepeak has a double berth to port, a desk and sail stowage to starboard, and storage for storm rodes and chain. Theres additional storage forward of the mooring bits for fenders, jerry cans, anchor rodes, etc.

We lived aboard for about thirty years in various Connecticut and Massachusetts towns, first the two us, then when our son was born, the three of us. Weve cruised from western Long Island Sound to Mount Desert, Maine. But, now at our age, sailing our 16 spritsail skiff is more our speed. We hope that someone else might cruise safely, affordably and comfortably aboard Kalihi. Shes got a lot of miles left in her.
Equipment:
Power
* Westerbeke Pilot 20: Bukh 2-cylinder diesel, 1980
* Marine Gear: PRM-120 2:1, new
* Shaft: 1 1/8" bronze
* Propeller: 14x12 3-blade, right-hand

Mast and Sails
* Mast: 43' aluminum, deck-stepped, Metalmast Marine
* Standing Rigging: 9/32" SS wire rope with 1/2" SS turnbuckles
* Mainsail: 352 sq. ft., 8.3 oz., full batten, dutchman 3-lne furling
* Forestaysail: 142 sq. ft., 7.3 oz.
* Yankee Jib: 160 sq. ft., 6 oz.
* Genoa Jib: 360 sq. ft., 6.5 oz.

Tanks
* Diesel: 18 gallons, aluminum
* Water: 40 gallons, plastic and rubber
* Holding: 20 gallons, plastic

Gear
* Handheld GPS
* Handheld VHF
* 4 Life Jackets
* Alcohol Cooking Stove
* Petit Godin Coal Heating Stove
* Anchors with rodes: 54lb. yachtsman, 45lb. CQR, 25lb. CQR
| | | |
| --- | --- | --- |
| Location: Salem, Massachusetts | L78123 | |
Material

Hull

Type

Rigging

Cabins

Condition

other

monohull

cruiser

cutter

2

good