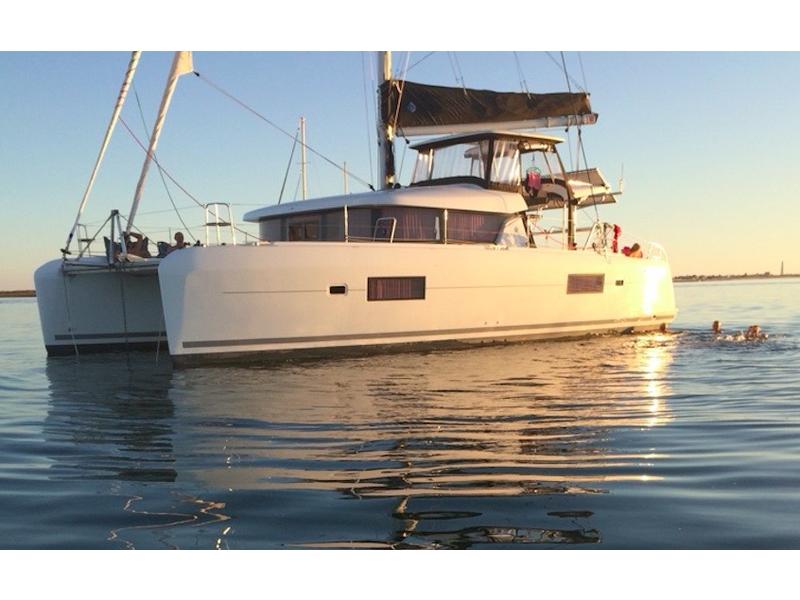 42' CNB Lagoon Lagoon 42


Year

Length

Beam

Draft

Location

Price

2017

42'

24'

4'

Outside United States

$505,000
Description:
Norwegian registered VEGA is now for sale in Tahiti, French Polynesia. We bought her directly from the yard in Les Sables d'Ollones in France and assumed ownership of her in June 2017. We then set out on our cruising agenda that would see our family of five in the South Pacific two years later. We have sailed her almost 15000 nm, across both the mighty Atlantic and the vast Pacific ocean. We can attest that she is a very comfortable and safe blue water cruiser, that can be handled safely by a short handed crew consisting of husband, wife and young children.

See our YouTube video

For more photos

Visit Lagoons infosite for the model

It is now time for us to head back to the hustle and bustle of family life in Norway, and we are looking for someone to continue the journey of this fine sailing vessel. We will have her ready for showing and test sailing August/early September in Papeete. It will be a pleasure to display our boat for serious buyers, show you how well she sails and demonstrate her superb handling ability at low speed in close quarters. Her spacious hull and comfort at anchor are just a couple of the advantages of the catamaran sail boat. We will be happy to discuss others, and indeed to share our experiences at your leisure when you visit.

We are asking for 445 000,- as she is with the enclosed equipment list.

If you are seriously considering the purchase of our boat, please send us an email at one of the adresses below. We will then send you our telephone contact numbers. (No brokers!)

email: oddvar (att) voyagingvega (dot) com or guri (dot) oppegard (att) gmail (dot) com

Please note: We are currently in the South Pacific, where internet access is hard to come by. It might therefore take some time before we are able to reply. Please be patient! We will respond.
Equipment:
Equipment option 'Comfort':
1 Lifting davits
Flaglines on spreaders
Cockpit cushion
2 extra 140 Ah service batteries
extra 300 l diesel tank port side
Indirect lighting in saloon and cabins
Watertight Fusion Loudspeakers in cockpit, remotely controlled from helm position Navigation package B&G (boatspeed, depth, autopilot, mv.)
Electric winch at helm position
220 V battery chargers 2 x 40 A
Battery controllers
Aft windows in stateroom cabins
Magazine holders in cabins
Fusion hub USB in saloon
Teak pulpit seats
Footpump in pantry for seawater/freshwater
Deck washpump for seawater/freshwater
Freshwater pressure inlet from dock
Standard fabrics on saloon setee 'Black'

Rig and sail options:
Code 0/gennaker rig and equipment
Bowsprit
Aft starboard winch
Port and starboard sheet blocks
Gennaker halyard
Roller/furler gennaker 90 sqm
59 sqm Fathead mainsail

Deck options:
Teak floor in cockpit and transoms
Rigid bimini and stairs to mastfloor
Flexible solar panels on roof 3 x 120W
Mounting bracket for outboard engine, aft port side
Fully canvas enclosed cockpit with windows
Cupboard/storage below helm position

Engine options:
2 x 57 hp Yanmar engines (4JH57)
2 x 3 bladed folding propeller for 57 hp engines

Electric system options:
2000 W inverter 12VDC/220 VAC
USB charger sockets in cabins

Water and black water options:
Extra 300 l water tank
Blackwater holding tanks with outlets for 3 cabin version
Electric toilets
Watermaker, Sea Recovery Ultra Whisper 12 VDC 63 l/hr 1

Interior options:
Skipper cabin' in port forward peak
Convertible double bed in saloon
Microwave/grill stove integrated in pantry furniture
Bed flex under all matresses
Stainless steel front loading fridge
Toploading freezer

Navigation and radio options:
B&G handset at helm position
B&G VHF V50 at nav station
B&G 4G radar
B&G Ais 400 transponder
B&G Wifi module B&G Zeus 12" screen at helm positon
Incl. maps for Europe, caribbean, latin america and the Pacific
Iridium pilot sat phone/128 kbps data
Mailasails Red Box LAN router/firewall solution
Wifi Bat, Wifi extender

Misc. options:
6 sylinder fenders
2 medium sized round fenders
Appr. 80 m mooring lines in total
33 kg Rocna anchor as main
72 m D10mm galvanized chain spliced to 20 m D18mm line
Custom made stainless steel frame for ekstra 550W solar panels, and antennas for Iridium Pilot and Wifi Bat
8 person inflatable ISO 9560 Liferaft

Additional equipment for sale:
10 hp 4 stroke Honda outboard
3 m Honwave inflatable dinghy with rigid aluminium bottom (not hull)
Rescue sling with 40 floating line and foam boyancy
Inflateable MOB bouy
Para anchor Storm jib sail
20 kg delta anchor
| | | |
| --- | --- | --- |
| Location: Papeete Tahiti French Polynesia, Outside United States | L80697 | |
Material

Hull

Type

Rigging

Cabins

Condition

fiberglass

catamaran

cruiser

fractional sloop

3

excellent