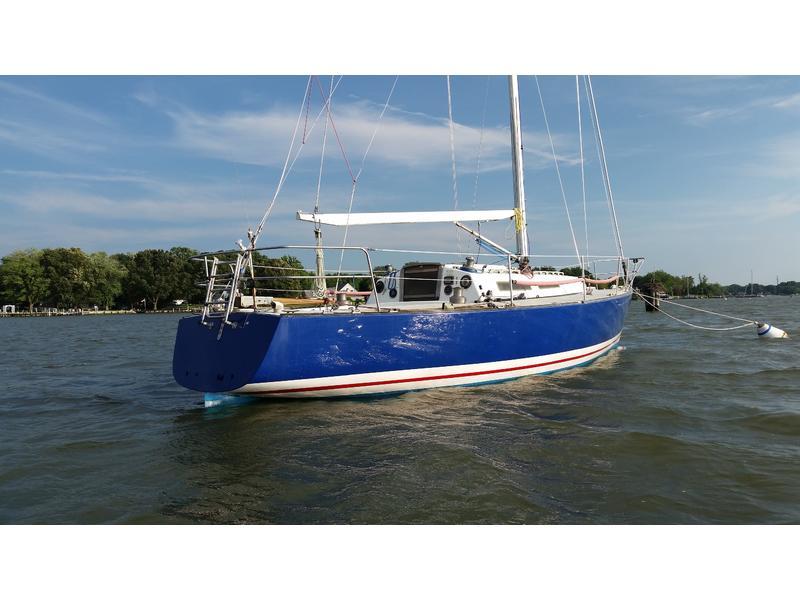 35.5' Tillotson-Pearson J/35


Year

Length

Beam

Draft

Location

Price

1985

35.5'

11.8'

6.9'

Maryland

$29,900
Description:
Over the years, Tillotson-Pearson has established a reputation for high-quality production work, often at the leading edge of fiberglass technology, that has helped J/Boats maintain an image of quality near the top-end of the production spectrum.

The J/35 was a successful racer from its introduction in 1983, and with more than 300 built so far, it has had a successful production run for the company. The 35 is still available as a new boat and will continue to be. A new design, the 35C, is unrelated to the 35, a different design, slower, aimed more at cruising than the original 35.

In design, the 35 looks like a typical Rod Johnstone boat, with short overhangs for a long waterline, relatively low and flat sheerline, a low cabin house, and a moderate well-balanced rig. Obviously, Johnstone knows something about the harmony between a boats underbody and the water, but a large part of the boats speed is also dependent on the light weight10,500 pounds on a 30-foot waterlineas well as a good distribution of that weight.

Traditionalists may think the J/35 is a little plain, but its proportions are pleasing, and many people consider it the most attractive grand prix racer around. If you didnt know the boats record, you probably wouldnt pick it out of a crowd as a speedster, or know that its one of the most successful racing boats its size of the 1980s.
Equipment:
Double headsail track system for both starboard and port to allow easy changing of headsails in the middle of a race.
Very light kevlar spinnaker pole making the ease of hoisting a spinnaker so much simpler and easier
All rigging and running rigging in excellent shape
All ground tackle (anchor & anchor line) Life jackets and safety gear goes with boat
Working VHF Radio, stereo, 2 bulkhead compasses, depth sounder, apparent wind indicator, wind speed instrument, knot meter included.
Yanmar 2 cylinder diesel inboard auxillary with Martec folding prop
| | | |
| --- | --- | --- |
| Location: Traceys Landing near Annapolis, Maryland | L84013 | |
Material

Hull

Type

Rigging

Cabins

Condition

fiberglass

monohull

racer/cruiser

masthead sloop

1

good