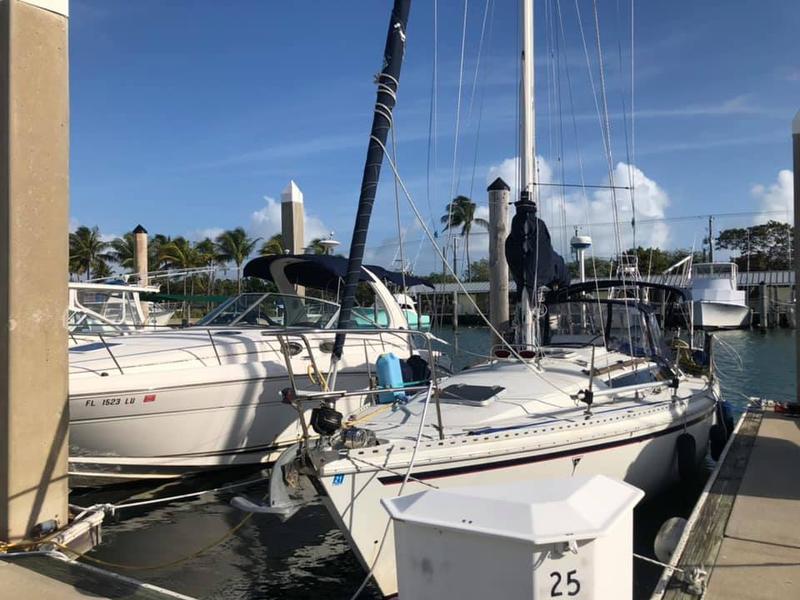 33' Gib'Sea 96 Master


Year

Length

Beam

Draft

Location

Price

1986

33'

11'

5.8'

Florida

$23,900
Description:
After living aboard for a while years and cruising Florida & the Bahamas, Im selling my 33 sloop-rigged 1986 GibSea 96 Master Martini. I believe her to be a fine Caribbean boat and Bermuda wouldnt be a problem. Shes a fun & forgiving boat to sail, Shell track straight without the autopiolot with everything set right. Martini set up for single-handing and she comes well-equipped with so much key equipment and gear added/upgraded since 2015, Im going to do my best to list everything, the previous owner as well as myself were meticulous about saving paperwork so there is manual and/or receipts for nearly everything mentioned. She was just put on the hard in Indiantown Florida.

Shes French built strong with a solid fiberglass hull, 2 full bulkheads and 2 partial bulkheads. 2-cabin Master layout with a large aft bunk with a closet and shelf storage, across the beam is an aft head on the other side of the stairs/engine. Galley with new 2017 ENO stove and full nav station across the beam from each other going forward, then a double couch settee with a butterfly table 33 Gallon SS water tank under each couch, And finally a private V-birth with a closet & shelf storage going forward. The 58 deep large fin keel and half-skeg-hung rudder make for a responsive boat with good motion. The interior with 61 headroom & bunk/settee lengths is immaculate as the previous owner was a woodworking pro and did a wonderful job preserving the interior and replaced the cockpit wood with red oak (Which does currently need a little varnish). I had all the cushions cleaned and the foam replaced in the sleeping cushions in 2019. Bottom layer is closed-cell foam to help keep the beds dry in cooler conditions. There are fans and USB ports throughout the cabins and saloon.

In the cockpit are 4 Barient self-tailing winches all regularly serviced. There is also a small reefing winch at the gooseneck of the mast. Cockpit has access to a shallow stern locker that is vented/drained with a 6 & 10 Gallon propane tanks as well as a deep lazarette on the port side.
Equipment:
Engine, transmission, and exhaust hose were replaced in 2016 with a Yanmar 3ym20 equipped with an 80-watt alternator that has run great for me. Only thing other than routine maintenance was the raw water pump had to be replaced earlier this year (old one is still aboard to be rebuilt and kept as spare). The 25 gallon SS fuel tank was flushed then as well and I did top off the fuel after mixing in some biocide before putting her on the hard. Just over 900 hours, maintenance has been done religiously (former military aviation mechanic here). She is due for the fuel filters to be changed and the manual says to clean the exhaust elbow but theres been no issue to make me want to pull it off. The belt cover is off in the pictures because I loosened the belts before leaving her. I would re-pack the stuffing gland and change the transmission oil before launching as both are close to being due. There is a vacuum canister aboard for changing all the fluids. The Michigan Wheel 2-blade propeller and solid SS prop shaft were also replaces new during the repower.
Electric power is supplied by 3 115 AH full river brand group size 31 AGM batteries for the house bank that has a battery monitor attatched and a NAPA group size 48 AGM battery for the start battery bank -all new Jan 2019. Every single light inside & out and up the mast are LED. There is also a 2000W inverter that powers 2 outlets one in the galley, one in the saloon by the TV. There is a 2018/19 300-watt soft-panel solar array that attaches to the bimini & dodger. The bimini was installed in 2015 and the fabric is getting tired. The bimini with 1 SS-framed dodger with aft hand holds and side holdrails, as well as the sail cover & splash guards were all new in 2018. Ground tackle is a 33Lb Rocna Vulcan with 165 of G4 chain spliced to another 140 of of 3-strand rode, both new in 2018, attached with an over-sized KONG SS swivel. There is also a 25LB Danforth secondary anchor on the aft pulpit and the secondary rode is 20 G4 chain and 220 8-plat rode. Windlass in a Lewmar profish 700 (new 2018) with a control switch in the anchor locker and a second control switch mounted in the cockpit (seriously one of the best add-ons for single handing).
Wheel mounted auto-pilot, drive system replaced 2019, spare drive motor, belt, and pilot computer aboard. Main chartplotter at helm is a 2009 Garmin GPS map with updated SD card maps of N. America, Western & Eastern Caribbean. The chartplotter has its own separate depth gauge. It is tied to the autopiolot for following a course & waypoints. There is an old Furno Radar that works but Ive only ever turned it on to make sure its working Havent needed it with AIS. Yes the boat has AIS through the 2019 Standard Horizon gps/AIS mounted at nav station that is also tied to the main chartplotter. There is a cockpit mike but the cockpit socket pin plug needs replaced. Mouthed in the Nav station is a 2018 Garmin GPS map 78 marine with micro SD maps of N. America, Eastern & Western Caribbean. There is a sony Bluetooth CD player and satellite radio all hooked up, theres speakers in the saloon and in the cockpit. There is also a cockpit control for the stereo.
Safety equipment includes a 4-person coastal life raft, new at end of 2018. EPIRB, flares & flare gun. Battery operated signal flare (never expires), several strobes & flashers, ditch bag with non-perishable emergency food & water rations, life jackets.
| | | |
| --- | --- | --- |
| Location: Indiantown Marina, Florida | L86532 | |
Material

Hull

Type

Rigging

Cabins

Condition

fiberglass

monohull

cruiser

masthead sloop

2

good